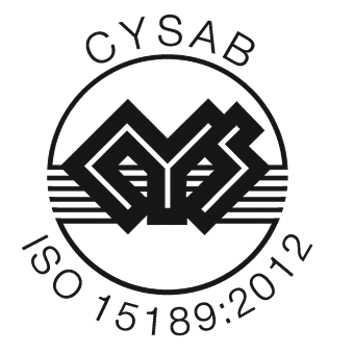 The administration of Rudas Lab is committed to the development, organization and direction of a Quality Management System according to the regulations of the authoritative International Organization for Standardization (ISO 15189:2012 Certificate L019-4 Χημείο Ρούδα), which provides the requirements to Clinical Laboratories for Competence and Quality in the medical laboratory practice. The aims of these requirements are:
To meet the directives of the ISO 15189:2007 both for the Technical and for the Administrative requirements: Organization, Managements, Document Control, Advisory Services, Preventive and Corrective Actions, Internal Audits, Personnel, Examination Procedures, Assuring Quality of Procedures and many others.
To provide the Quality Assurance at all steps of the laboratory work, applying monitoring techniques (including inspections and audits) in order to promote the confidence of the Laboratory results and to ensure the compliance with the accreditation bodies.
To maintain a permanent Quality Control system using techniques that minimize discord and discrepancy in results of measurement of the same quantity in the same material.
To permanently maintain External Quality Assessment programs for the analysis performed in the lab using analytical material obtained from accredited bodies from abroad: United Kingdom National External Quality Assessment Scheme (UK NEQAS), Hellenic System for External Quality Assessment (GR ESEAP), UK Randox Quality Assessment Scheme (UK RIQAS), German Society for the Promotion of Quality Assurance in Medical Laboratories (DE INSTAND eV).
_____________________________________________________________________________________________________
16 i008-1 10/12/2018 Page 1/1