Rudas Lab - ISO 15189:2012 Certificate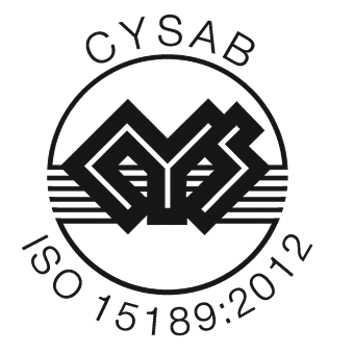 The Laboratory was established in Nicosia, Cyprus, in 1988 under the name XHMEIO RUDAS, and specializing in both Routine and Special Medical Laboratory testing: Coagulation Factors, CLIA, HPLC, Immunofluorescence (IFA), Micro ELISA, Hormones, Cancer Markers, Therapeutic Drugs Monitoring (TDM), Western Blot, Virology, Biochemistry, Microbiology, Molecular Biology among others.
Most advanced and robust Informatics Technology (IT and LIS) has been developed from the same beginning of works of the Laboratory. Latest addition is the sophisticated Internet web site of the Lab that includes: automatic transmitting the Lab tests Results On Line both to patients and to GHS portal as soon as they are ready from the analyzers, SMS and e-mail notifications, History Charts for comparing results, On Line payments for the tests, powerful and Secured database storing system and much more.
The Lab is holder of Certificate of Acreditation ISO 15189:2012 Certificate L019-4 Χημείο Ρούδα for a large number of laboratory assays, is officially registered in the Cyprus Ministry of Health (Certificate No 205) and the labs Director is member of the Board of the Association of Clinical Laboratory Directors, Biomedical and Clinical Laboratory Scientists for many years.
The Administration of the Laboratory is committed to the application of the Quality Police and for the guarantee of the impartiality of the Laboratory .The laboratory is committed to good professional practice through Quality in Testing, Support and Service. Our mission is to supply our customers with on-time delivery of test results and services either by hand or electronically and On Line via Internet, which is of the best possible quality and consistently, meets the performance criteria. In order to live up to our quality policy and objectives, our laboratory executes tests efficiently, cost effective and on time with standards that consistently meet or exceed our customers requirements. This is accomplished through a continuing program to improve upon operational procedures and systems while striving to supply accurate and exact test results. Excellence in the workplace is promoted by providing all staff with the knowledge, training, and tools necessary to allow for the completion of accurate and timely work.
Quality assurance of the tests we perform at our laboratory is achieved with the participation in many External Quality Assurance Schemes EQAS that cover all areas of laboratory testing Coagulation, Biochemistry, CLIA, HPLC, ELISA, Immunnofluorescence, Western Blot, Virology : ESEAP Biochemistry tests, ESEAP-G HbA1c, UK RIQAS Hormones, Therapeutic Drugs and Cancer Markers, UK IMMQAS-I Immunnofluorescence, UKNEQAS-HE Hematology, UKNEQAS-Hb Hemoglobins HbA2/HbF and UKNEQAS-M and INSTAND DE for Virology tests .
_____________________________________________________________________________________________________
16 i001-1 10/12/2018 Page 1/1